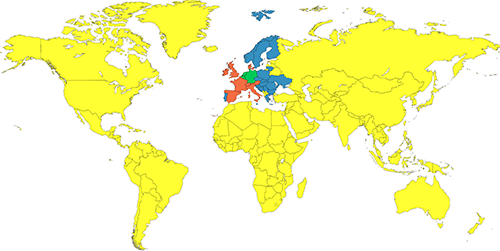 SHIPPING (Netherlands, Belgium, Germany and Luxembourg)
For all orders up to 30 kg you pay € 5,99 shipping. Orders with an order value above €100,00 will be shipped free of charge. These conditions are valid for the Netherlands, Belgium, Germany and Luxembourg.


SHIPPING ABROAD (rest of Europe & the World)
Rest of Europe : € 15,95 - 29,95 Shipping costs (Excl. VAT) 
Outside Europe : : € 25,00 Shipping costs (Excl. VAT) 
Rest of the World : € 50,00 - 75,00 Shipping costs (Excl. VAT) 

DELIVERY TIMES
Industrial Quality Parts attempts to deliver your order within 1 working day for you. This does depend on which payment method you choose.

Deliveries outside the Netherlands are usually delivered within 1-10 working days.
TRANSPORT COMPANIES
For our shipments we use the following transport companies; DPD, UPS, DHL and Post.nl


ORDER PICK YOURSELF
It is possible to pick up your order in Ter Aar. Once your order is ready for you, we will call or email contact you for an appointment.

The shipping costs include VAT, postage, packing and handling.
Yet we occasionally get and then whether goods can not be sent by mail and only the stamps can be calculated; this is not possible.
These orders have a relatively small order value. We would only calculate the postage cost us money then these orders, because the administration, packaging (wages) and the packaging also cost money. Still, it's important to us that we can help each customer and therefore offer a very competitive package to rate.


RETURN OF GOODS:
As an additional service, it is possible for goods that you no longer use to return to us, provided they are still in original condition. You have 30 days after the purchase date, the time to indicate that you wish to return the purchase. If you order multiple items at one time, this period begins after you have received the final article. From the moment that you have indicated their intention to return an item it must be sent within 14 days. We will refund 100% of the purchase price of the returned products. You will be refunded the amount within 10 working on your behalf. Apply to return a copy of the invoice or invoice number sent with the mention of your NAW- and bank details. The shipping and handling fee will not be refunded and you need to take care of the return. Who must pay postage yourself.

Returned goods must be be sent to our mailbox:

Industrial Quality Parts
Attn Returns
Harsweg 34A
2461 EZ Ter Aar
Netherlands

Excluded from this return service are:
- Hoses, which are cut
- Especially for the customer ordered products
- Products with wear or damaged products.


WARRANTY:
All our products come with 2 year warranty.