CPC - LQ8D30012 | Coupling Body | Chrome-plated brass | 3/4" SAE-12 male thread
| | |
| --- | --- |
| Article number: | CPC-LQ8D30012 |
| SKU: | LQ8D30012 |
2 year warranty

Delivery time: 8 - 12 weeks
Information
CPC - LQ8D30012 | Coupling Body | Chrome-plated brass | 3/4" SAE-12 male thread
A In-line coupling body from CPC from the LQ8 series with a 3/4" SAE-12 male thread. This coupling body (female) ensures a leak-free seal, partly provided by an EPDM sealing ring.
Features of the couplings from the LQ8 series:
Brass material
Chrome Finish
Non-spill design; Disconnecting under pressure with no spill
Extra protection against leaks for a extended period of time
High flow capacity at low pressure; cost-effective cooling system
EPDM O-ring
Ergonomic design; Easy one-handed operation with audible closing
Small design; dimensions suit electronics in small spaces

Available with screw thread and hose tail
Possible applications:
Server Cooling
Cooling Liquid
Thermal Management
Cooling systems
Equipment building
General information about the LQ8 series:
Everis™ LQ8 Series feature 1/2" flow for liquid cooling of electronics applications. Specifically designed for thermal management applications, Everis LQ8 connectors offer a high-flow capacity to optimize liquid cooling system performance. They provide ultra-reliable, dripless connections and disconnections for ease of use and peace of mind given proximity to sensitive or valuable equipment components. LQ8 quick disconnects (QDs) use patent pending valve technology that eliminates drips and are designed for long-term use. EPDM seals are a standard option for compatibility with glycol/water coolants.
Material: Chrome Plated Brass
Valve and release button: Polyphenylsulfone
Available with hose tail, male thread 3/4" SAE-1, 3/4" G
Stainless steel valve spring
O-rings: EPDM
Working pressure: vacuum up to 8,3 bar (120 PSI)
Operating temperature: -17ºC to 115ºC (0ºF to 240ºF)
Droplet Formation: <0.02 cc at ~ 0 bar and < 0.07 cc at ~ 4,1 bar per disconnect

Look at related products for the right choice for your application or contact our sales department: [email protected]

Specifications
| | |
| --- | --- |
| Medium: | Liquid Cooling |
| Operating Pressure: | 8,3 bar Vacuum |
| Temperature range: | –17° C tot +115° C |
| Material: | Chrome-plated brass |
| Size: | 1/2" flow |
| Connection: | In-line coupling |
| Seal: | EPDM |
| Hose connection: | 3/4" SAE-12 male thread |
| Weight: | -- |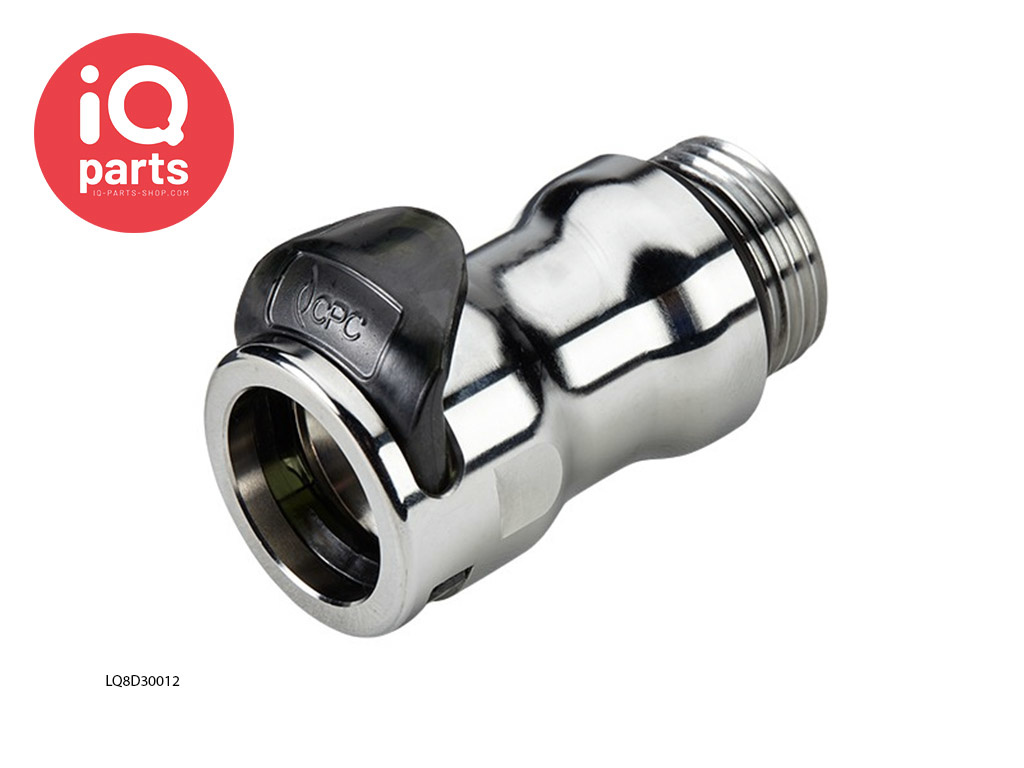 Reviews
No reviews found
Read or write a review