CPC - LC16004 / LCD16004 | Coupling Body | Panel mount | Hose barb 6,4 mm (1/4")
| | |
| --- | --- |
| Article number: | CPC-LC16004 |
| SKU: | LC16004 |
2 year warranty

Delivery time: 2 - 3 weeks
Information
CPC - LC16004 / LCD16004 | Coupling Body | Panel mount | Hose barb 6,4 mm (1/4")
An in-line coupling of CPC from the LC series with a 6,4 mm hose tail and suitable for panel mounting through the male thread and fastening nut. This Coupling Body (female) ensures a leak-free seal, partly provided by a Buna-N (NBR) sealing ring. This coupling is available with a valve (LCD16004) and without a valve (LC16004). (Choose at the top right at "Make a choice:")
This coupling comes standard with a Buna-N (NBR) sealing ring, but
O-RING SELECTION IS A KEY DECISION in determining which connector will perform best in your specific application.Understanding the material characteristics and how they can be affected by both the media being transferred and the environment in which the connector is being used is important.
BUNA-N is the most common O-ring seal due to its solvent, oil and water resistance. Temperature range is -40°F to 250°F.
FKM (Viton) is best suited for applications where chemical and strong acid resistance and/or high temperatures are a requirement. The temperature range is -15°F to 400°F.
EPDM has excellent resistance to polar solvents. This O-ring is not compatible with petroleum. The temperature range is -70°F to 300°F.
SILICONE
seals have good temperature resistance. The temperature range is -70°F to 400°F and with special compounds can reach 175°F to 450°F. Silicone can also be supplied with Class VI requirements for medical/bioprocessing applications.

Properties of the coupling from the LC series:
Brass Material
Chrome plating
Durable and able to withstand higher pressure and temperature
Attractive appearance
Versions rated to 204ºC
One-hand connection and disconnection
LC mates with PLC and PLC12 Series couplings

Possible Applications:
clean air systems
fermentation
papermaking
laser cooling systems
packaging systems
oxygen concentrator
Also very suitable for petrol systems with Viton O-sealing ring

General information about the LC series:
CPC's LC Series chrome-plated brass couplings are built tough and made to last in the most demanding applications. Ideal for use with higher temperature or pressure, the LC Series features a one-hand operation for swift and easy connects and disconnects. These couplings offer the flexibility of multiple configurations and terminations to mate with both the PLC acetal and PLC12 polypropylene couplings. In addition, couplings are available that meet the requirements of the NSF standard.
For more technical information, see the PDF.
Material: Chrome-plated brass
Available in various sizes: from 6.4 mm to 9.5 mm ID, also at an angle of 90º
Available with clamping ring coupling, hose tail or male or female thread
With and without valve, Valve spring made of stainless steel 316 (W5)
Available with panel mounting option
O-rings: Buna-N (NBR)
Vacuum up to 17.3 bar (250 PSI)
Temperature range: -40ºC to 82ºC constant
Look at related products for the right choice for your application or contact our sales department:
[email protected]

Specifications
| | |
| --- | --- |
| Medium: | Liquid / Air |
| Operating Pressure: | 17,3 bar Vacuum |
| Temperature range: | –40° C tot +82° C |
| Material: | Chrome-plated brass |
| Size: | 1/4" flow |
| Connection: | In-line hose barb |
| Seal: | Buna-N (NBR) |
| Hose connection: | 6,4 mm (1/4") Inner diameter |
| Weight: | -- |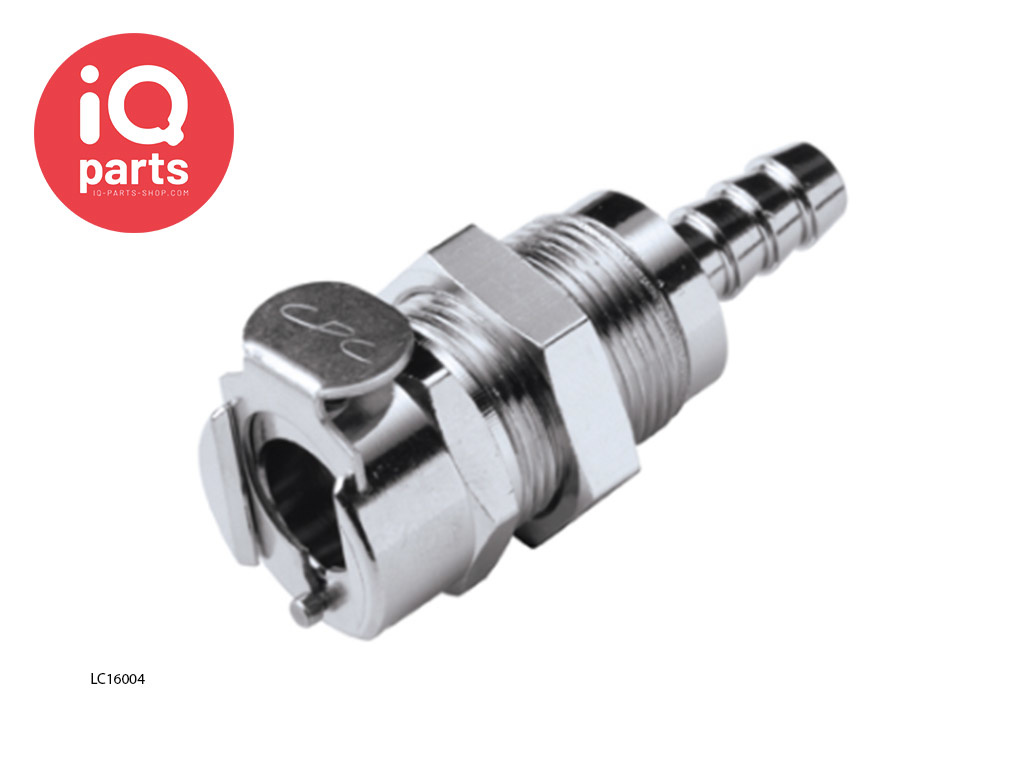 Reviews
No reviews found
Read or write a review